The story of Gigi Clozeau started with the birth of Gigi, the brand's creator, and with a bracelet made for the occasion by her jeweler father. A delicate gold chain with colorful resin pearls...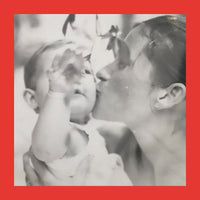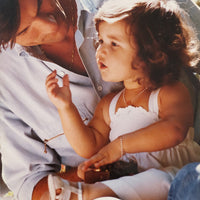 Gigi was born in the south of France, to a house steeped in the traditions of design and fashion. Her father, Alain, worked at his jewelry bench crafting delicate designs by hand and her avant-garde mother, sparked a nascent creativity for color, elegance and print. it was out of these traditions and the joie de vivre of a young father eager to celebrate the birth of his first daughter that the Gigi Clozeau line was born.
INSPIRING JOY AND LOVE THROUGH COLORFUL JEWELRY
FAMILY CREATIVITY AND KNOW-HOW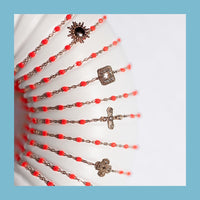 Gigi Clozeau jewelry is made in the family workshop, Gigi uses only the finest materials: 18 carat gold, diamonds, and a sub-lime varnish known for its shine and quality. This high-end resin delivers a rich palette. Artisanal application of it onto yellow, rose, and white gold chains is an art, the result of Alain Clozeau's 50 years of expertise.
A mother-daughter duo, inspired by the south and by love, living between the south of France and the United States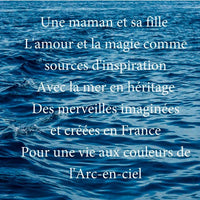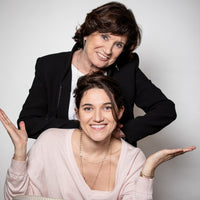 Pendants and other lucky charms are a natural addition to bracelets and necklaces, among which are pink flamingos, suns, or crosses that remind us of Saintes-Maries-de-la-Mer. "This represents our faith in optimism, in the beauty and simplicity of existence" explains Marie.